Dental Implants – Holliston, MA
Modern Solutions for Missing Teeth
It goes without saying that even a single lost tooth can have significant repercussions for your health as well as your life. While keeping all of your natural teeth is always the preferable option, the next best thing is to replace them with dental implants. When covered with an appropriate restoration, dental implants improve your oral health and seamlessly restore the beauty of your smile. Call Holliston Complete Dentistry today to set up your first consultation to discuss tooth replacement with dental implants in Holliston, MA and learn how Dr. Abernethy can help with the process.
Why Choose Holliston Complete Dentistry for Dental Implants?
Partnered with
Implant Experts
Dental Office That Treats Patients as People
Experienced,
Caring Dentist
What are
Dental Implants?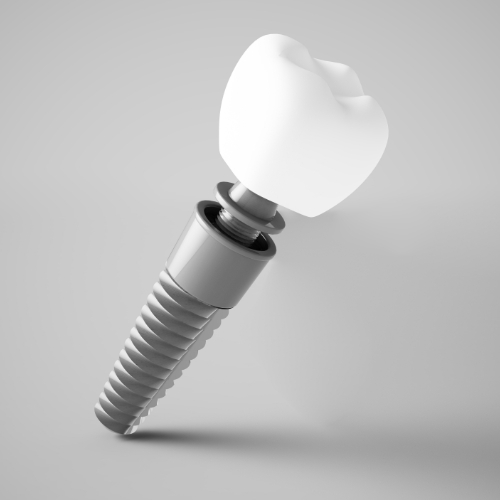 A dental implant is a thin metal post shaped like a screw, normally made out of titanium. You might think it's odd that it doesn't look like a tooth at all, but that is because the implant post itself is designed to be placed in the jawbone and act as new tooth roots. The restoration attached to the implant is what everybody else will see when you smile. When implants are combined with the right kind of restoration, the result is a new smile that looks, feels, and functions like the natural thing.
The 4-Step Dental Implant Process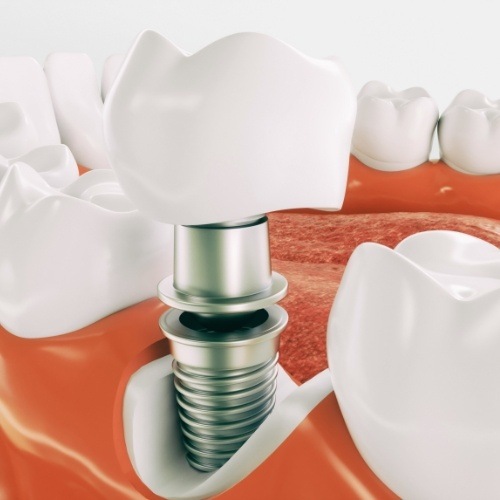 Getting dental implants takes multiple stages. The first step is to set up an implant consultation with us so that we can evaluate your oral health and determine what, if any, preliminary procedures need to take place before you can receive implants. Once you're ready, you can see a local specialist to have the second step – dental implant surgery – completed. During the third stage, the implant post will join with the jawbone via osseointegration, and an abutment will be placed on the posts. You'll return to our dental office for the fourth and final step, which is the design and delivery of an implant restoration.
Benefits of Dental Implants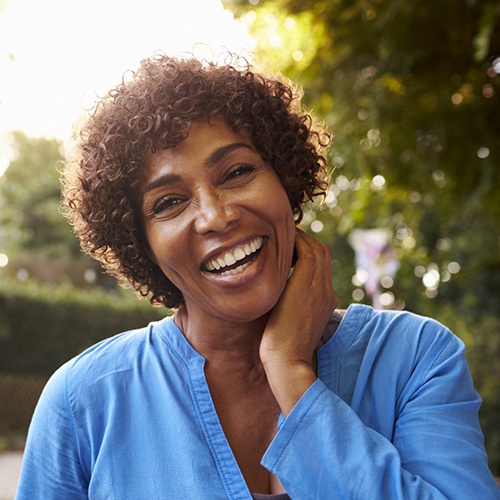 If you ask any dentist about the best way to replace missing teeth, nearly all of them will say dental implants. Why? Instead of just sitting on the gums, this solution takes it one step further by recreating the entire structure of the teeth. Essentially, it will look and feel as if your natural teeth had never been lost in the first place! Compared to traditional dental bridges and dentures, there are numerous benefits that you can enjoy with dental implants in Holliston. Keep reading to learn a few of them!
Day-to-Day Benefits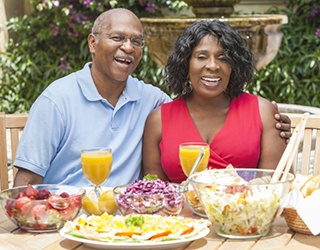 Smile confidently – The jawbone naturally changes shape after tooth loss, causing dentures to lose their fit over time and start slipping around. Dental implants preserve the jawbone's shape and keep your new teeth anchored in place, so you can smile without worrying about them shifting or falling out.
Speak clearly – Poorly fitting dentures are notorious for making clicking or whistling sounds or causing people to slur their words. Again, dental implants stay firmly in place, so this shouldn't be an issue.
Eat your favorite foods – One of the main benefits of dental implants in Holliston is that they restore almost all of the biting and chewing power you had with your original teeth. You'll have no problem digging in to your favorite crunchy and chewy foods!
Clean your teeth easily – While dentures require a complex and time-consuming daily cleaning routine, dental implants can be brushed and flossed just like natural teeth.
Health Benefits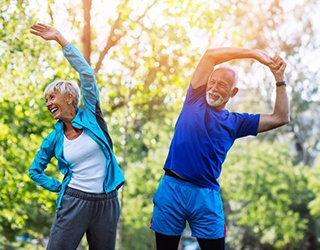 Jawbone health – Every time you bite or chew, that force travels through the roots of your teeth and strengthens your jawbone. When teeth are lost, though, the jawbone loses that stimulation and begins to deteriorate, which may increase the risk of further tooth loss as your remaining teeth lose support. Luckily, dental implants stimulate the jawbone exactly like natural teeth, keeping it healthy and strong.
Oral health – Dental implants can support themselves without relying on any of your remaining teeth for support. This makes them a more conservative option than a dental bridge, which requires your implant dentist in Holliston to remove some enamel from two of your natural teeth. As a result, the teeth you have left will stay stronger for much longer.
Overall health – Since dental implants let you eat practically anything, you'll be able to fill your diet with fresh fruits, vegetables, tough meats, and other nutritious foods that denture wearers often have trouble eating. Therefore, it will be easier to maintain a generally healthy body.
Long-Term Benefits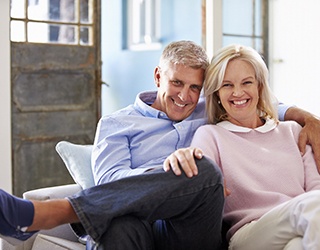 Look younger – By preventing jawbone loss, dental implants also prevent the collapse of your facial structures that can result in a wrinkled, older appearance. They can help you retain a youthful glow for years to come!
Enjoy your new teeth for decades – While dentures and bridges typically break down and need to be replaced after five to 10 years, dental implants can last for 30 years or longer if you take good care of them.
Save money – Although implants may seem more expensive at first, they may actually be more cost-effective in the long run. Not only will you not have to pay for frequent repairs or replacements like you would with traditional prosthetics, but you also won't need specialized cleaning products or adhesives.
Who Dental
Implants Can Help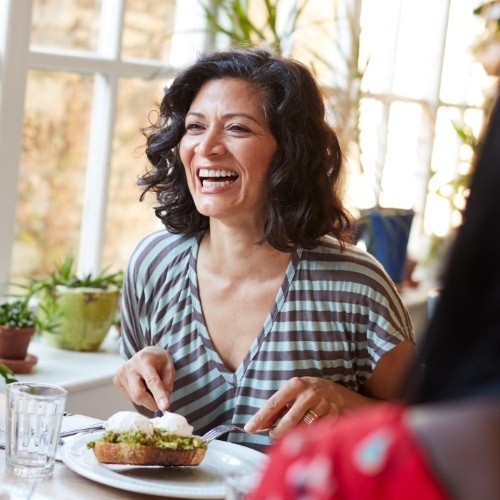 You may be able to get dental implants if you've lost at least one tooth and meet the following criteria:
You have enough jawbone density to support an implant post.
You are not currently suffering from gum disease.
You do not have a health condition that could potentially complicate the surgery.
If you do not fulfil the above criteria, you are able to undergo any preliminary procedures deemed necessary for fixing the problem.
If you meet the above criteria, you can undergo one of the following implant procedures:
Missing Single Tooth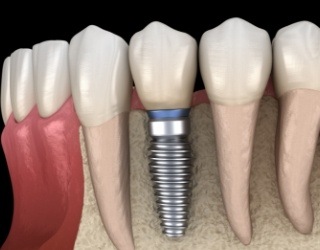 A dental implant will be carefully placed in the lone gap in the arch in question, then topped with a crown once osseointegration is complete. In many cases, this procedure can be seen as an alternative to a traditional bridge, which means that you will preserve more of your natural smile.
Missing Multiple Teeth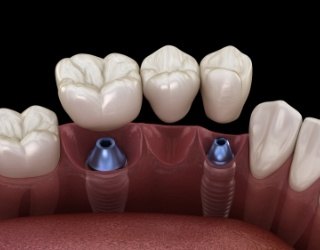 When at least three teeth in a row have been lost, an implant bridge can fill all of the empty space. A pair of implants are placed to support the bridge. The number of prosthetic teeth between the crowns of the bridge will vary depending on how large the gap is.
Missing All of Your Teeth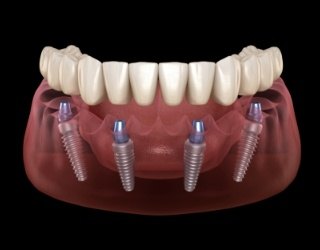 An entire arch of teeth can be replaced with an implant denture attached to a number of dental implant posts. The restoration will click securely into place over the dental implants, so they will not slip or move at any point.
Understanding the Cost of Dental Implants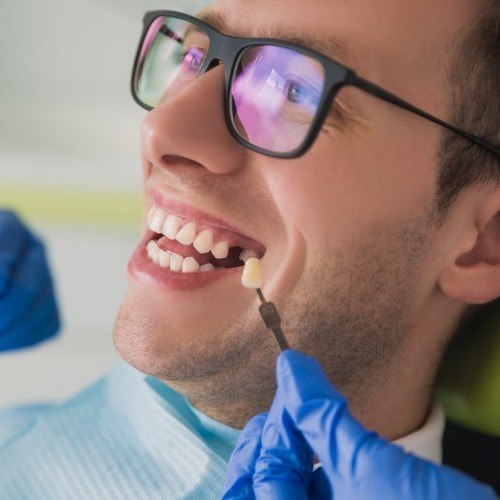 We will discuss the cost of your dental implants during your initial consultation. The final price will depend on how many implants you need, what preliminary procedures are performed, and a host of other factors. On average, implant restorations cost more than regular bridges and dentures. The tradeoff, however, is that dental implants will last much longer, allowing you to save a significant amount of money over the years that you would have otherwise spent getting a replacement.
Dental Implant FAQs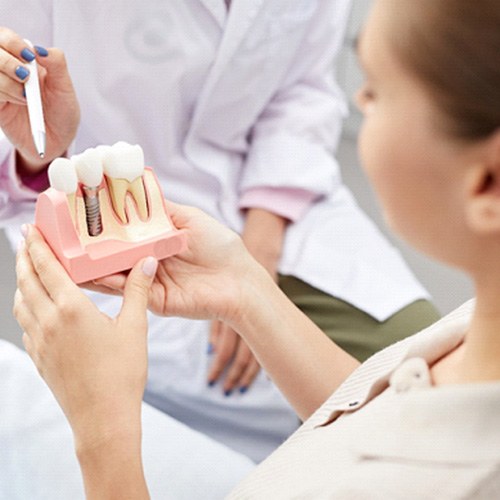 By now, you may be considering dental implants. You could certainly trust them – they're amazing at restoring and enhancing smiles! That said, it's natural if you still have some leftover concerns. Like any patient, you'd prefer to feel confident about an upcoming treatment. Luckily enough, Holliston Complete Dentistry has you covered: below are the answers to some oft-asked dental implant questions. Reading them will let you see how our tooth replacements work. Otherwise, feel free to call our office for additional details.
Am I Too Young to Get Dental Implants?
In truth, a person's jaw only fully develops in young adulthood. Some people's jaws don't even finish growing until their mid-20s. As such, dentists won't place implants in patients under 18. Doing so would interfere with an individual's bone development and cause complications.
Given these facts, you can receive dental implants if you're a healthy adult. If you're still a teen, alternative restorations like dentures or dental bridges are more advisable.
How Successful Are Dental Implants?
Rest assured, dental implants are highly successful as tooth replacements. They have a success rate of over 95% when placed by qualified professionals! Therefore, you can trust they'll work after the initial surgery.
Still, implants do depend on proper care to function in the long run. They're likely to fail early without such maintenance. Following implant surgery, then, remember to do the following:
Practice Good Oral Hygiene – As you always should, brush your teeth twice daily and floss between them once daily.
See Your Dentist Often – If you attend regular checkups and cleanings, you're less likely to have problems that could threaten implants.
Eat a Mouth-Healthy Diet – A high sugar intake could cause cavities and gum disease – issues known to trigger implant failure.
How Long Does It Take to Recover from Dental Implant Surgery?
Generally, recovery from implant surgery occurs in two stages: the short-term and the long-term. Each one follows a unique timeline.
In the short-term, recovery from implant surgery takes little time. You should be fine to resume normal activities the day after. That said, avoid strenuous exercise during the first week after treatment. You might delay the healing process otherwise.
Long-term recovery, meanwhile, can take several months. After all, implants need much time to fuse with your jawbone. You should be very careful of your mouth during this period.
Do Dental Implants Make You Look Younger?
Ultimately, yes –dental implants do make you look younger. The final restorations help your face look fuller and less saggy.
You see, implants both reverse and prevent facial collapse. They act as substitute teeth and stimulate your jawbone. As such, the prosthetics ensure your jaw keeps supporting your facial structures. You thus won't have to endure a wrinkly, sunken face or fine lines around your mouth.