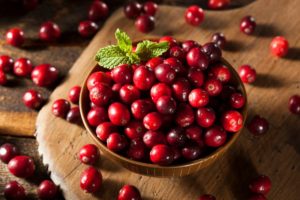 The holidays are a time to partake in your favorite seasonal foods. From turkey to stuffing to pumpkin pie, traditional treats are plentiful. And don't forget the cranberry sauce! Since this vibrant fruit is harvested in the fall, it is a common food during the holiday season. But did you know it can help keep your teeth healthy? Keep reading to learn three ways cranberries contribute to a healthy smile!
How Do Cranberries Benefit Your Oral Health?
Considered a superfood, cranberries provide a high amount of nutrients and antioxidants. Research has shown that this bright red berry can lower the risk of a urinary tract infection, prevent cancer, improve the immune system, and lower blood pressure!
But how do they make your smile healthier? Here are three ways cranberries benefit your oral health:
Provide protection—Cranberries contain a chemical compound called proanthocyanidins, which forms a barrier on your gums from harmful enzymes and has anti-inflammatory properties.
Minimizes harmful bacteria—There is a special enzyme in cranberries that keeps bacteria from binding to your teeth, which then protects you from the plaque that causes cavities. Studies have shown that drinking cranberry juice can reduce the presence of harmful bacteria by 95%!
Reduces the risk of periodontal disease— The powerful nutrients in cranberries decrease the possibility of gum infections, which can lead to tooth loss. They also cut down the amino acids that bacteria survive on, preventing them from attacking the soft tissues of your mouth.
Tips for Enjoying Cranberries During the Holidays
In addition to your oral health routine, cranberries are a great addition to keep your teeth and gums in great condition during the holidays. However, there are some factors to be aware of when indulging in cranberry treats, such as:
Be mindful of sugar content—Cranberries are naturally bitter so sugar is often added to recipes that include this bright berry, which can increase the risk for tooth decay. Canned cranberry sauce is often artificially sweetened. You can always make homemade sauce, as well as other cranberry treats, to control the amount of sugar.
Keep your teeth free from staining— This darkly-pigmented berry has the potential to stain your pearly whites. Rinse your mouth 30 minutes after eating foods containing cranberries to keep them from sticking to and staining your teeth.
It's the time of the year to indulge in your favorite seasonal foods, including cranberries. Enjoy all the benefits from them that keep your smile healthy!
About the Author
Dr. Saba Abernethy and her team at Holliston Complete Dentistry make your smile their top priority! She earned her Fellowship of General Dentistry, a designation only 6% of dentists have, and is a member of several dental associations. By providing a range of dental services under one roof, she can help you keep your pearly whites healthy and beautiful all year long! To schedule an appointment, contact her through her website or call (508) 429-5300.