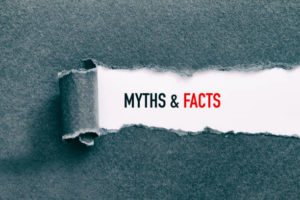 Anyone can turn the smile of their dreams into reality with cosmetic dentistry. However, there are many misconceptions about elective services, but much of what you've heard probably isn't true. Don't let rumors stand in the way of a picture-perfect smile. Here are the facts behind 4 common cosmetic dentistry myths.
Myth #1: Cosmetic Dentistry is Expensive
Fact: There are solutions for all budgets.
Cosmetic dentistry is often thought to be expensive, but you don't have to be rich or famous to revamp your smile. There are more treatment options than ever before, which means there's a solution to fit your budget. After examining your mouth and learning more about your situation, including your finances, your dentist will create an individualized strategy to enhance your smile without breaking the bank. There are also many options to keep cosmetic dentistry affordable, like monthly payments using a third-party financing company, such as CareCredit.
Myth #2: Cosmetic Dentistry Only Offers Aesthetic Benefits
Fact: Cosmetic dentistry can improve your oral health.
Cosmetic dentistry can give you a flawless smile, but it can also improve your oral health. Certain aesthetic concerns can cause dental problems, like exposed tooth roots, decay, or overcrowded teeth. Resolving the imperfections can promote the health of your teeth and gums to avoid costly dental expenses later. You'll invest in a healthy, beautiful smile to enjoy a long-term investment.
Myth #3: You Can't Use Your Insurance for Cosmetic Dentistry
Fact: Dental insurance covers medically necessary procedures.
It's true, it is rare for dental insurance to cover cosmetic procedures, but there are exceptions. Many elective services also provide restorative benefits, like dental bonding or metal-free crowns. If your dentist determines a procedure is necessary for your oral health, you can use your coverage to offset the cost. After meeting your annual deductible, your insurance can pay up to 80% of the cost of common restorative procedures.
Myth #4: Cosmetic Dentistry Requires Complex Procedures
Fact: There are many minimally invasive procedures.
New technologies and techniques provide many minimally invasive services to enjoy quick results. Depending on your needs and the services you choose, you won't have to undergo many procedures to achieve your goals. Your dentist will help you choose the best option to address your specific concerns, like porcelain veneers. The minimally invasive procedure can address several imperfections using one treatment.
If you're unhappy with the way your teeth look, cosmetic dentistry can give you a smile that you'll be proud to share with the world. You'll boost your confidence and enhance your oral health using the latest advancements and dentistry.
About Dr. Saba K. Abernethy
Dr. Abernethy earned her dental degree at the Boston University School of Dental Medicine and has regularly continued her education in many specialties, including general dentistry and cosmetic dentistry. Dr. Abernethy is a proud member of several professional organizations, including the American Dental Association. Request an appointment through our website or call (508) 876-3337.