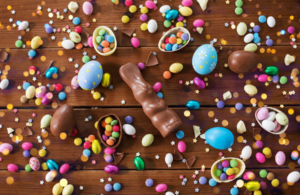 With Easter Sunday coming up, you've probably noticed all of the shelves and counters at the grocery store are lined with all sorts of Easter-themed decorations, trinkets, and sweets. And if you have a sweet tooth, you might be hoping to pick up some of these candies for yourself—or your loved one's Easter basket! But did you know that many of these treats are actually quite detrimental to your oral health? Here's a closer look at a few of these problematic treats along with some tips from your dentist to help you maintain a healthy and bright smile following the holiday!
Popular Easter Candies That Can Harm Your Smile
The following types of candy are very popular during the Easter season; however, they're also all potentially hazardous for your teeth and gums when eaten without restriction. Consider enjoying them in moderation this time of year, or even avoid them entirely if you can.
Marshmallow Peeps
One of the most iconic Easter candies around, these soft, brightly colored, fun-shaped marshmallows are high in sugar content and contain harmful dyes, both of which can cause issues for your teeth including decay and staining.
Milk Chocolate Bunnies
Chocolate bunnies are often bigger than the average piece of candy, which means that your teeth and gums are exposed to an even greater amount of sugar than what's found in smaller chocolates! Milk chocolate is also especially high in sugar content compared to dark chocolate, and it lacks the beneficial antioxidants that are present in cacao, which has a higher concentration in dark chocolate.
Jellybeans
Jellybeans are mostly pure sugar and also contain excessive amounts of dye, similar to marshmallow Peeps. Due to their size and shape, they can also easily become lodged between your teeth which causes bacterial growth and enamel damage.
Cadbury Eggs
These little eggs are an Easter staple and are often found everywhere this time of year; but as beloved and tasty as they might be, they're extraordinarily high in sugar content. Not to mention, the crème-filling present in these candies contains large amounts of corn syrup, which can contribute to dental issues and bodily health issues alike.
Lollipops and Other Hard Candies
Needless to say, lollipops, jawbreakers, and other types of hard candy expose your teeth to sugar over extended periods. On top of that, they can cause physical damage to your teeth such as chipping or fracturing if they're bitten before being fully dissolved.
Tips for Maintaining a Healthy Smile After Opening Your Easter Basket
Here are some tips to help you maintain a white and bright smile, even if you find yourself indulging in some of these Easter-themed candies:
Drink water while enjoying candy, and swish water around your mouth after you've finished eating.
Try not to eat candy constantly throughout the day, instead saving your indulgence for one sitting.
Don't brush your teeth immediately after eating candy; acid wears away enamel, so brushing right after eating might cause further damage to your teeth. Instead, wait about half an hour or so before brushing.
Visit your dentist for routine preventive care in addition to maintaining a healthy smile on your own accord.
You don't have to give up Easter candy entirely to preserve your smile's wellness—however, showing some active restraint and taking precautionary measures can easily ensure that you have absolutely nothing to worry about!
About the Author
Dr. Saba K. Abernethy and her skilled team have proudly served the dental needs of the Holliston, MA community for several years! Her practice is thrilled to offer a comprehensive range of preventive, restorative, and cosmetic treatment options. Dr. Abernethy is also a Fellow of the Academy of General Dentistry, one of the most renowned professional dental organizations around! If you have any questions about the blog or you'd like to schedule your next visit, feel free to contact Dr. Abernethy through her practice's website or over the phone: (508) 876-3337.